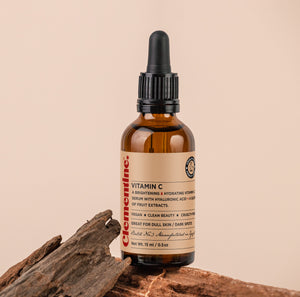 A nourishing daily dose of vitamin c that helps improve the skin-tone, and texture creating a softer, smoother and visibly brighter complexion.
Everything your skin needs in this little bottle of sunshine! This unique light formula helps fade dark spots, reduces hyper-pigmentation, fights wrinkles and refines the skin texture by boosting collagen production, it's also packed with pure nourishing  fruit extracts& Hyaluronic acid to help soften & brighten the skin.
**Great for dry/ dull skin 
INGREDIENTS: *Aqua (water), Sodium Hyluronate (Hyaluronic acid), Actinidia chinensis (kiwi) fruit extract *Citrus sinensis  (orange) peel extract, * Citrus limonum (lemon) extract, *Prunus armeniaca (apricot) extract, * Fragaria ananassa (strawberry seed) extract * L-absorbic acid (Vitamin C),Rosa damascena (Rose)oil, *Daucus *Carota Sativa (carrot seed) oil,*Simmondsia chinensis (Jojoba) oil, Hydroxyethylcellulose.