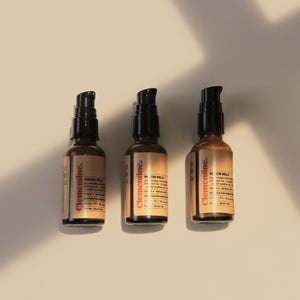 An everyday facial moisturizer with pure hyaluronic acid, skin loving vitamins and nourishing botanical oils that soften the skin without clogging pores.
Moisturize and protect your skin with this rich and silky formula designed for daily nourishment. "Moon Milk" is powered and infused with Aloe vera, Hyaluronic acid, Almond oil, Rose oil and an abundance of skin-beautifying botanical extracts. The powerful formula results in the appearance of firm, soft & hydrated skin.
 **Perfect for normal/dry skin types
INGREDIENTS: *Water(Aqua),*Sodium Hyluronate (Hyaluronic Acid), *Glycerin, *Aloe barbadensis (Aloe vera) ,*CocosNucifera (Coconut oil), Cocos Nucifera (Coconut) Pulp,*Prunus Amygdalus Dulcis (Sweet Almond) Oil, Rosa centifolia (Rose)oil, *Simmondsia chinensis (Jojoba) oil, *Butyrospermum Parkii (Shea) Butter,*CandelillaWax,*D-panthenol,*ZincOxide(naturalSpf),Daucus carota (Carrot Seed) Oil) *Tocopherol( Vitamin E).