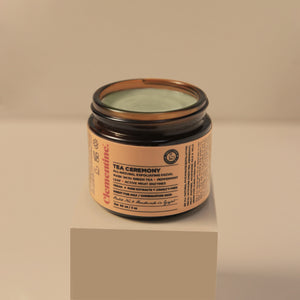 AN ALL-NATURAL FIVE MINUTE EXFOLIATING FACIAL WITH PURE GREEN TEA, PEPPERMINT, FRUIT ENZYMES, NOURISHING OILS & WILD HERBS FOR CLEAR, FRESH SKIN.
This 2 in1 facial gets rid of dead skin in less than 10 minutes, enabling the potent nutrients in the rest of your routine to sink in more deeply, it has a light creamy  texture enriched with green tea, peppermint, and fruit enzymes to help remove dirt, impurities, smooth the skin's surface, and accelerate skin cell renewal, it contains anti-bacterial and anti-inflammatory properties that help calm redness and inflammation. Upon contact with water it transforms into a lathering milk, and gently exfoliates revealing clearer, and brighter skin!
**perfect for oily/combination skin
INGREDIENTS:*Aqua (water)*Camelliasinensis(Greentea) leaf, *Mentha piperita (peppermint) Water, *Glycerin,*Aloevera(Aloe barbadensis)leaf,*Simmondsiachinensis (Jojoba) seed oil, *Peppermint leaf,* Neem Leaf,*Peppermint (mentha piperita) oil, *Tea tree(melaleuca alternifolia) oil, *Carica papaya (papaya) Enzymes, *Licorice Root extract, *D-panthenol, *Lactic acid, *Soy Lecithin, *Xanthan gum.